Fun and exciting winter festivals!
Heat up Korea's winter with these hot events! The following are special winter festivals in Korea. Don't miss out on the thrilling experiences only available in winter.
HWACHEON SANCHEONEO ICE FESTIVAL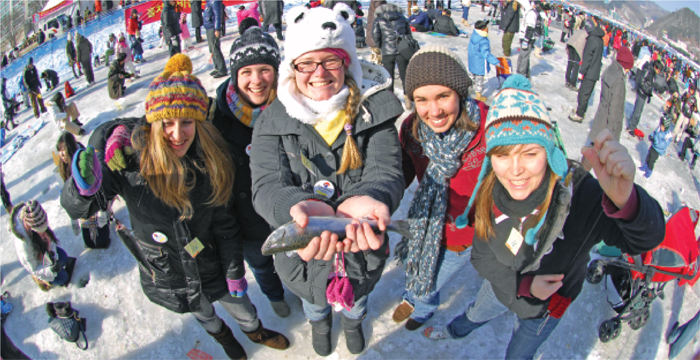 The Hwacheon Sancheoneo Ice Festival has been featured on CNN as one of the "7 Wonders of Winter." It attracts over 1 million visitors each year, continuing its reputation as one of the world's four major winter festivals. Featuring a wide variety of experiences and attractions, including mountain trout fishing on ice, a zip track stretching across the festival venue, and various snow and ice sculptures, the festival is one of Korea's top winter festivals, beloved by more and more tourists each year.
Date : Around January
Add : Hwacheoncheon Stream, Hwacheon-gun, Gangwon-do
Tel : Nara Foundation : +82-1688-3005
Info : Mountain trout ice fishing & bare hand fishing, ice sleds, bobsleighs, ice sculpture plaza, etc
THE INJE ICEFISH FESTIVAL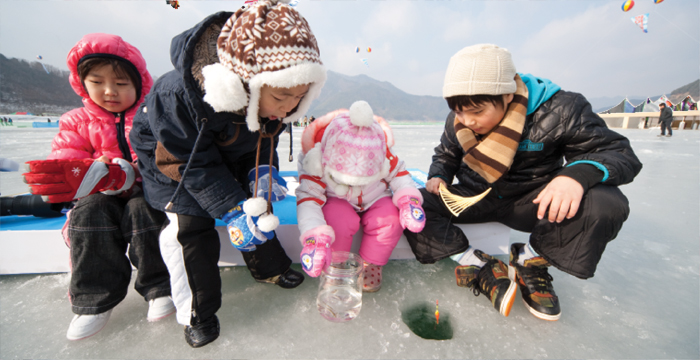 When the crystalline Soyangho Lake freezes solid, this signals the beginning of the Icefish Festival featuring silvery icefish below the vast expanse of ice. With crowds of visitors wanting to experience ice fishing, Soyangho Lake is filled with the sounds of delight and laughter throughout the festival season. In addition to ice fishing, the festival features many unique events that can only be enjoyed in winter including icefish tasting, ice sledding, and ice soccer.
Date : Around January
Add : Injedaegyo Bridge, Nam-myeon, Inje-gun, Gangwon-do
Tel : Inje Tourist Information Center : +82-33-460-2170
Info : Ice fishing, ice soccer, ice wall climbing, ice bowling, etc.
TAEBAEKSAN SNOW FESTIVAL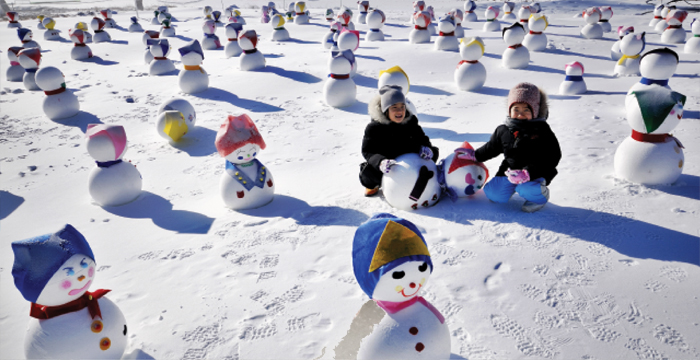 Held every winter in the snow-covered landscape of Taebaeksan Mountain, the Taebaeksan Snow Festival offers a true winter experience. Featuring magnificent snow and ice sculptures by artists, the festival is brightly lit by the smiles of tourists.
Date : Around January
Add : Taebaeksan National Park, Gangwon-do
Tel : Taebaeksan Snow Festival Organizing Committee +82-33-550-2828
Info : International snow sculpture exhibition, snowman festival, snow climbing contest, traditional winter games, etc
PYEONGCHANG TROUT FESTIVAL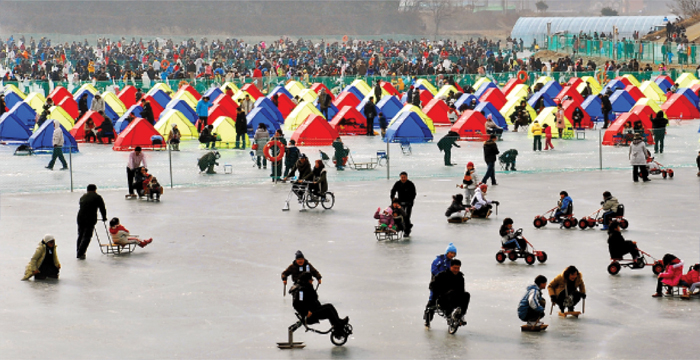 When the season of snow and ice arrives, an outdoor trout festival is held at Odaecheon Stream in Pyeongchang-gun, Gangwon-do. Pyeongchang's breathtaking views of snow-covered landscapes have earned it the nickname "the Alps of Korea." It is the perfect place to appreciate the beauty of winter while enjoying an exciting festival. The theme of the festival is "A Winter Story of Snow, Ice, and Trout." It features a variety of hands-on programs including trout fishing, sledding, and traditional sledding.
Date : Around December ~ February
Add : Odaecheon Stream, Pyeongchang-gun, Gangwon-do
Tel : Pyeongchang Trout Festival Committee +82-33-336-4000
Web : www.festival700.or.kr
Info : Trout fishing, snow sledding, snow rafting, traditional sledding, etc.
HONGCHEON RIVER GINSENG TROUT FESTIVAL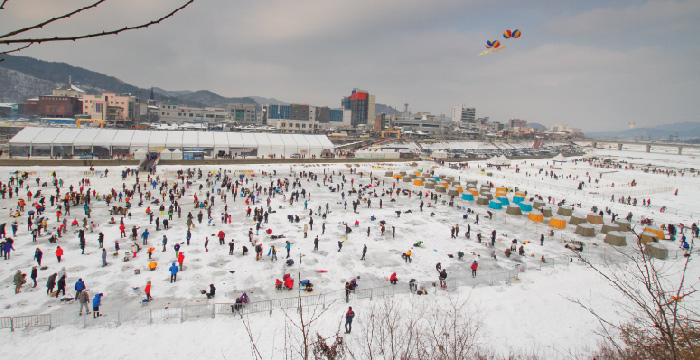 Every winter, tourists flock to the frozen Hongcheongang River to catch special "ginseng trout," which were fed sixyear-old Hongcheon ginseng. In addition to ice fishing, which can be enjoyed by people of all ages, the festival feaatures a wide range of attractions, cuisines, and entertainment including bare handed trout fishing, Snow World operated by Vivaldi Park, charming views of thatched cottages, and traditional restaurants.
Date : Around January
Add : Hongcheongang River, Hongcheon-gun, Gangwon-do
Tel : Hongcheon-gun Festival Committee +82-33-435-4350
Web : www.hccf.or.kr
Info : Trout fishing, bare handed fishing for ginseng trout, Vivaldi Park Snow World, winter photo zone, views of thatched cottages, ice soccer, etc.
BUSAN CHRISTMAS TREE FESTIVAL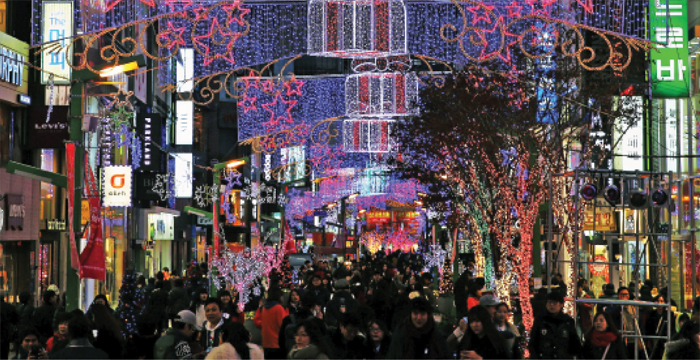 As Christmas carols echo through the streets announcing the arrival of the Christmas season, large Christmas trees and colorful lights liven up the night sky of Busan. Featuring a 20m Christmas tree, the Busan Christmas Tree Festival offers a variety of cultural performances such as NANTA and choir songs.
Date : Around November ~ January
Add : Gwangbok-ro, Jung-gu, Busan
Tel : Christmas Tree Festival Organizing Committee +82-51-256-1225
Web : bctf.kr/g5
Info : Christmas lights photo zone, wishing tree, snow time, flash mob, etc.