Sochang Experience Center & Joyang Bangjik—The Sound of Weaving Sochang Cotton Echoing Across the Island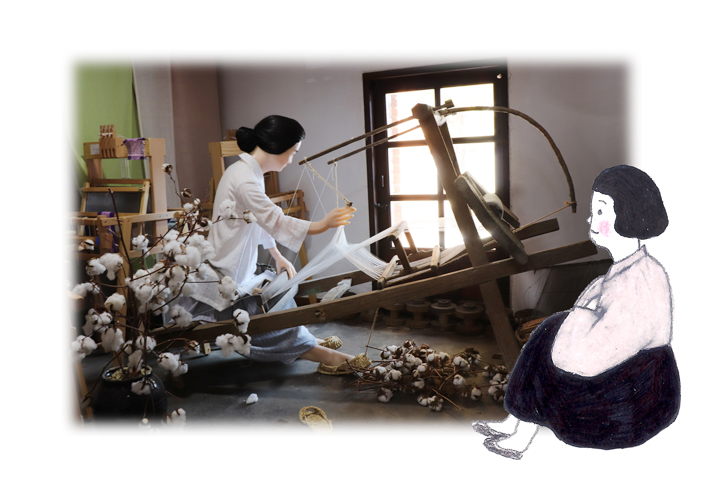 【 Sunja seeing her mother weaving fabrics 】
A girl named Sunja was living in the northern part of Ganghwado Island. Every morning, she went to the sochang cotton factory to work. Sochang, also called Ganghwa silk, is a type of cotton that is commonly used for baby diapers or blanket linings. Sunja was skilled with her hands like her mother, who was good at weaving hwamunseok (rush) mat.
So when a textile manufacturing technician named Ma Jin-su opened the Pyeonghwajikmul factory to make sochang cotton, he asked Sunja to work for his factory. Making sochang cotton required a lot of work. Once you produce yarn, you need to bleach, starch and then dry it.

Dried threads are wound on the spool, and then they are weaved into sochang cotton cloths. Sunja liked it when she saw a bunch of starched threads hung out on long poles outdoors. She thought the threads flapping in the wind looked like noodles. Sochang cotton cloths were very popular and sold like hotcakes. There were several sochang factories other than Pyeonghwajikmul. The very first sochang factory was Joyangbangjik.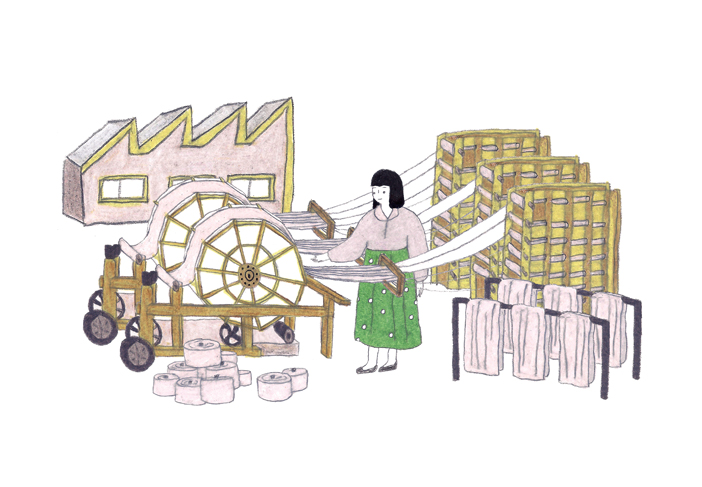 【 Sunja checking the completed sochang cotton cloth 】
It is said the electricity and landline supplies were brought to the island thanks to the operation of Joyangbangjik. Another factory called Simdojikmul opened in 1947 and hired as many as 1,200 workers. Every year, a competition was held among more than 60 sochang cotton factories on the island, and Sunja won the competition for three consecutive years earning the nickname "Miss Sochang." Sunja was so proud of the title. Ganghwado Island was known for the best quality cotton in Korea, therefore the best on Ganghawdo meant the best in the country.
Ganghwado Island has more than 800 years of fabric manufacturing history. It dates back to the 13th century when the Goryeo Kingdom relocated its capital to the island. Local residents on the island worked day and night to weave textiles and hwamunseok mat (a local specialty of Ganghwado Island). Due to the superb quality of these local items, they were also popular in neighboring countries as well. Thanks to the sochang cotton industry, the island's population reached 100,000, and sochang cotton was even exported to the US and China. Every morning and evening, the streets near the sochang factories were crowded with commuter vehicles that the factory workers used. Nearby alleys were filled with saunas and inns since factory workers frequently visited saunas to wash away dust and thread, some workers even stayed in the inns as long-term guests. However, as artificial fabrics like nylon were introduced and modern-style textile factories flourished in Daegu, the sochang cotton factories on Ganghwado Island closed their doors one by one and the closed factories were left neglected.
Decades later, the sound of construction filled the air in the area again. Pyeonghwabangjik factory, where Sunja had worked, and the company house transformed into the Sochang Fabric Experience Center. In addition, Joyangbangjik factory where Sunja's cousin had worked became a café. Long workbenches turned into coffee tables and the walls that had almost collapsed were renovated into a gallery space. Nowadays, people visit the cotton factory-turned café to chat over coffee and cake while sitting in front of the workbenches. Sunja's youth revived, and the sochang cotton factory was born again.
More Info
Sochang Fabric Experience Center
Address: 8, Nammunan-gil 20beon-gil Ganghwa-eup, Ganghwa-gun, Incheon
Phone: 032-934-2500
Directions: Cross the main street in front of the Ganghwa-gun office main gate, go straight for 140 m then turn right and proceed for 150 m till you see the Sochang Fabric Experience Center on the left alley.
Hours: 10:00-18:00 (Closed every Monday)
Admission: Free
Tip : Visitors can join the free activity program to make their own hand stamped handkerchiefs.
【 Front view of Sochang Fabric Experience Center 】

【 A power loom exhibit at Sochang
Fabric Experience Center 】
【 Free activity --
stamping sochang cotton handkerchief 】
【 Cotton, the main ingredient
of sochang cotton 】
【 Sochang cotton cloths
in diverse colors 】
More Info
Joyangbangjik (cafe)
Address:12, Hyangnamu-gil 5beon-gil Ganghwa-eup, Ganghwa-gun, Incheon
Phone: 032-933-2192
Directions: Depart from Ganghwa Jungang Market, pass Jungang Wedding Hall and turn left at the Sinmun Intersection, and you will find Joyangbangjik on your left.
Hours: Weekdays 11:00-21:00, weekends and holidays 11:00-22:00
Nearby Tourist Sites: Ganghwa Tourism Platform
【 Joyangbangjik, a fabric factory-turned cafe 】

【 The entrance to
Joyangbangjik 】
【 Joyangbangjik café
and gallery 】
【 Outdoor space
on the 2nd floor 】
【 A women's restroom
at Joyangbangjik café, a popular photo spot 】
【 Iced mulberry tea
and carrot cake 】