Ganghwa Anglican Church, Joseon's First Hanok-style Catholic Church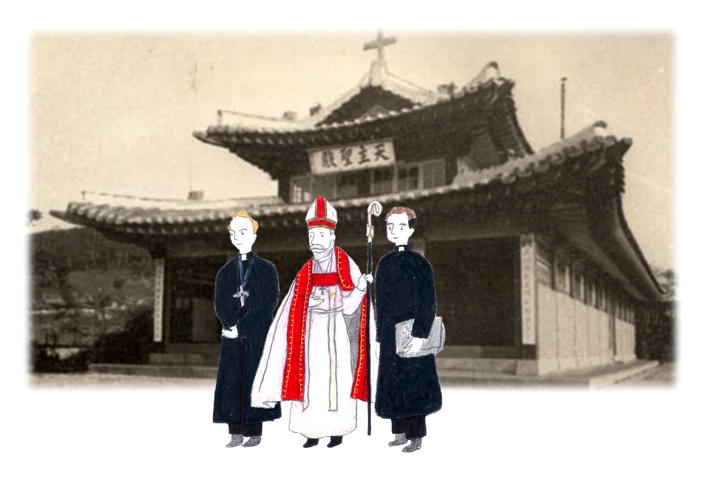 【 A photo of Ganghwa Anglican Church in its early phase. Photo from Incheon 】
In 1889, Charles John Cofre (Korean name Goh Yo-han, 1843-1921) was consecrated at Westminster Cathedral as the first Anglican Bishop of Korea. Corfe led a missionary group consisting of doctors, nurses, and nuns and arrived at Incheon Port in Korea after a six-month journey via Singapore and Hong Kong. They first carried out medical volunteer services in Incheon and moved to a humble house on the seaside near Gapgot-ri of Ganghwado Island to conduct missionary activities. After seven years Corfe earned a new Korean name, Goh Yo-han, and the first Korean Baptist, Kim Hee-jun, was appointed. Around that time, Corfe thought it was time to build an Anglican church in Korea.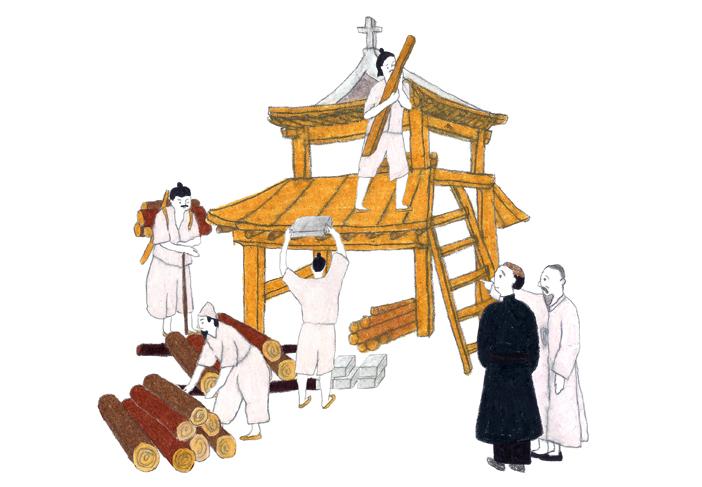 【 Bishop overseeing the construction 】
He could not decide which architectural style to choose from, so he met and discussed his plans with a master carpenter. He was the best carpenter in Joseon and had participated in remodeling Gyeongbokgung Palace. The carpenter told him, "I need over 100-year old Korean red pines from Baekdusan Mountain." The 2nd bishop Arthur Beresford Turner (Korean name Dan A-deok, 1862-1910) took the job of getting the pine trees. Turner went to Baekdusan Mountain, found Korean red pines, made them into a raft and took them down the Amnokgang River, through the Yellow Sea and then to Ganghwa-eup. The transport took as long as six months, and another six months was needed to dry the trees. It was such a long and difficult task that priest Turner became ill from overwork and passed away.
The job of building the cathedral then fell on the third bishop Mark Napier Trollope (Korean name Cho Ma-ga, 1862-1930). The layout of the cathedral resembled Noah's ark. The main gate symbolized the head of the ship, the cathedral building was located in the middle part, and the parsonage was at the tail. The construction reflected oriental and western architectural styles alike. The main door had a pattern combined with both the Cross and yin-and-yang symbols. A signboard that read Cheonjuseongjeon, meaning a Catholic church building, hung in front of the building, and a belfry was built at the top. In addition, the traditional Korean carpentry technique of interlocking separate wooden pieces was used, so no nails were used for the construction. When viewed from the outside, the Anglican church looked like a two-story building, but it actually is a single-story building with high ceilings. The interior of the church is in the Basilica style and can accommodate 250 people. The arch-shaped doors and glass windows were brought from the UK, and when light shone through the windows it created a divine atmosphere.
Finally, Ganghwa Anglican Church opened on November 15, 1900. The building is a true masterpiece created based on the deep understanding of Korean culture; careful planning and design; and the master carpenter's abundance of experience and technique. This Anglican church boasts harmony between Korean and western cultures, and the church still holds mass on weekends.
More Info
Address: 10, Gwancheong-gil 27beon-gil Ganghwa-eup, Ganghwa-gun, Incheon
Phone: 032-934-6171
Masses: 07:00, 09:00, 11:00 on Sundays (approx. 1.5 hours)
Tip: You can enjoy even more beautiful views at night.
Travel Writer Recommended Restaurant: Rolling Rice Ganghwa-gun office branch store (032-934-1154) sells bibimbap, stir-fried rice cake, and instant noodles. Ireokjo Sikdang (032-934-3985) is known for the pork rib soup seasoned with salted shrimp. For desserts, try the joporkripongpong latte (a latte topped with barley rice pops) at Daon (032-933-5117).
Nearby Tourist Sites: Yongheunggung House, Goryeo Palace Site, Ganghwa Tourism Platform, Simdojikmul chimney.
【 Half-side view of Ganghwa Anglican Church 】

【 The interior of Ganghwa
Anglican Church, designed
in the Basilica style 】
【 The flag at Ganghwa Anglican
Church. The flag was used for
consecration. St. Peter's keys of
heaven and St. Paul's sword of
the spirit are embroidered on
the flag. St. Peter and St. Paul
are the patron saints of
Ganghwa Anglican Church. 】
【 Joripongpong latte
sold at Daon 】

【 The front view of Ganghwa Anglican Church 】

【 Tombstones of the three priests who built
Ganghwa Anglican Church. (from right)
Charles John Cofre (the first bishop),
Arthur Beresford Turner (the second bishop)
and Mark Napier Trollope (the third bishop) 】