Oegyujanggak, the Place that Housed Uigwe (the Royal Protocols of the Joseon Dynasty), the Most Beautiful Books in the World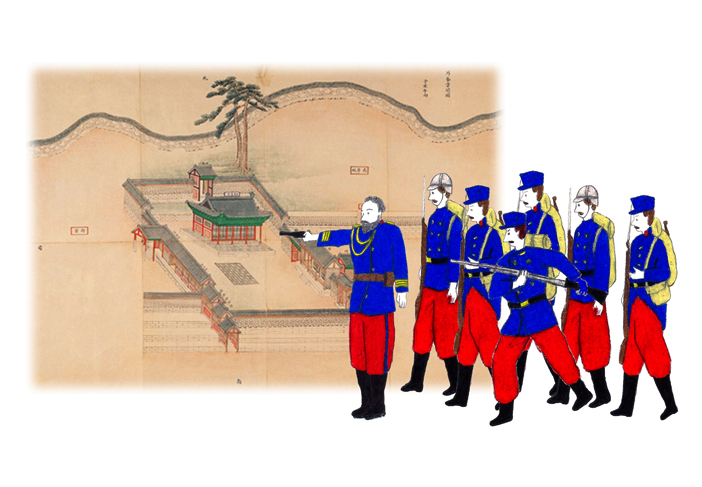 【 Oegyujanggak depicted in Ganghwabugungjeondo (drawing of royal palace on Ganghwado Island) (1888),
from Oegyujanggak (Royal Library) 】
One day in October of 1866, the French navy arrived in Joseon, led by Rear Admiral Pierre-Gustave Roze (1812-1882), the commander of the French Far Eastern Squadron. At the time, Joseon prohibited Catholicism and executed French priests and Korean Catholics during the Byeonginbakhae persecutions. A French missionary named Félix Clair Ridel (1860-1884) managed to escape the country. He fled to China and delivered the news of the massacre to France. In retaliation, French Admiral Roze led a group of 1,525 navy soldiers and seven warships. They occupied Ganghwado Island and demanded a commercial treaty and severe punishment of those who were responsible for the massacre. However, this only led to a battle between the two countries.

The French navy had modern weapons with stronger firepower than Joseon's traditional weapons, therefore Joseon was no match for its counterpart. Perhaps, France became too complacent this time, since they sent approximately 160 soldiers to Joseon and was defeated by the Joseon army led by general Yang Heon-su in the Jeongjoksanseong Battle. When they retreated, the French soldiers took 359 books from Oegyujanggak (Royal Library) as well as 19 boxes of silver and burned the remaining books in the royal library.
Meanwhile, Henry Zuber (1844-1909), a French naval officer, was part of the navy forces sent to Ganghwado Island. Zuber was also a landscape painter, so he recorded everything he saw on the island with his writing and paintings. He was astonished when he saw the books stored in Oegyujanggak (Royal Library).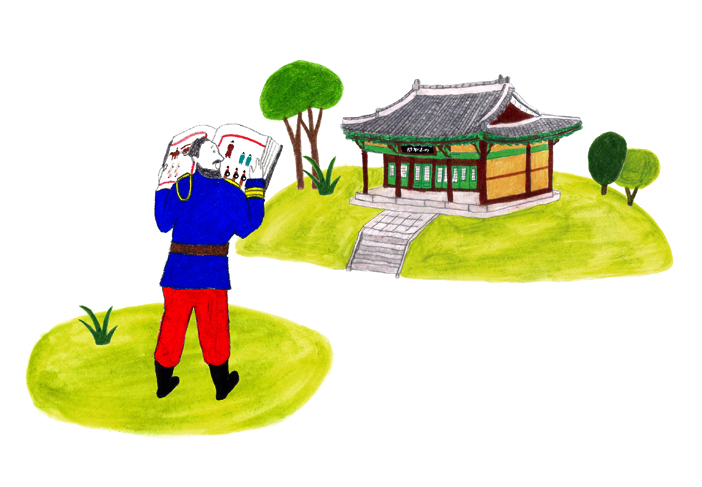 【 Zuber amazed upon seeing the uigwe 】
The royal library was built in 1782 by King Jeongjo, the 22nd king of the Joseon dynasty. The library kept the uigwe (the royal protocols of the Joseon dynasty) and related articles of the royal family. Zuber was amazed by the vivid colors and detailed description of civil servants, flags and carriers on the uigwe. He thought they looked very life like. What's more, the uigwe for the kings were even more elegant. Seeing all these books, Zuber became both amazed and zealous. Onboard the ship headed back to France, Zuber finished a painting titled "A Nobleman Writing in a Small Room in Joseon." He wrote the following at the bottom of the drawing: "I was quite amazed to see that in Joseon, every household had books, and nearly everybody can read, no matter how poor they are." It was the paintings and books of Joseon that greatly moved Zuber.
More Info
Address: Goryeo Palace Site 394, Ganghwa-daero Ganghwa-eup, Ganghwa-gun, Incheon
Phone: 032-930-7078
Directions: Located within the Goryeo Palace Site near Yongheunggun Park
Tip: Need to purchase admission ticket to the Goryeo Palace Site.
Travel Writer Recommended Restaurant: Wangjajeong restaurant (032-933-7807) sells tasty acorn jelly and rice in cold broth as well as pork rib soup seasoned with salted shrimp. The green tea latte at Buksan Iyagi (032-932-5180) is not to be missed either.
Nearby Tourist Sites: Yongheunggung House, Goryeo Place Site, Ganghwa Tourism Platform, Simdojikmul chimney
【 Oegyujanggak (Royal Library) located within the Goryeo Palace Site 】

【 Uigwe, which had been kept at the
French National Library and returned to
Korea in 145 years
(on a renewable loan basis) 】
【 Part of Jeongsunwanghu Garyedogam Uigwe,
records of the royal
marriage of Queen Jeongsun
and King Yeongjo 】
【 "A Nobleman Writing in a Small Room in
Joseon" painted by Zuber 】
【 Acorn jelly and rice in cold broth
at Wangjajeong restaurant 】