Ganghwasanseong, Fortress Built with Blood, Sweat and Tears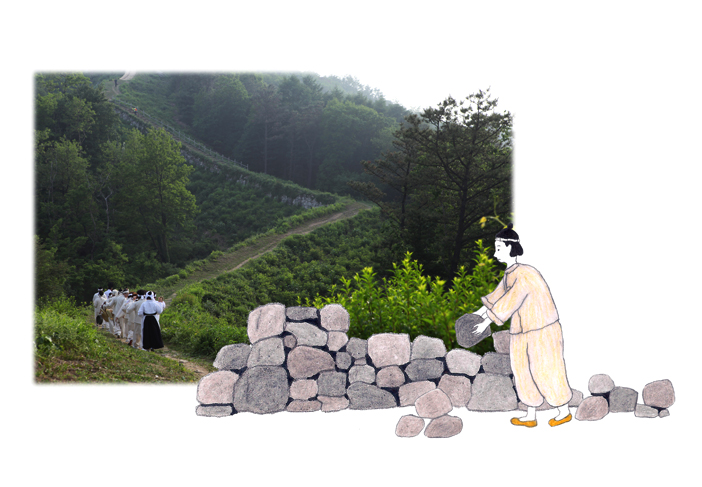 【 Chu standing at the fortress construction site 】
Chu woke up early in the morning and went to work on building Ganghwasanseong fortress. When the Mongols suddenly attacked Goryeo, King Gojong the 22nd king of the Goryeo Kingdom, moved the capital from Gaegyeong to Ganghwado Island and constructed a palace, government offices and a fortress. In order to build a fortress, the ground must be rammed first to compress the earth. Chu found jigyeong stones to pack the earth. These jigyeong stones are round and tied to ropes. Workers grab and pull the ropes to lift the rocks and then let them drop to ram the earth. Such labor intensive work was frequently accompanied by singing.
"Eogiyeocha, let's build the fortress. The fortress stones are heavy, so let's hurry and build the fortress~♪♬.
The foreign ships are about the come. Eogiyeocha let's build the fortress. Let's hurry, move the stones and build the fortress~♪♬"

A worker leads the melody, and the remaining workers lift the stone as they sing along with the chorus. The ground ramming repeats all day long. This process is an essential part of the construction since solid ground must be secured first in order to build a solid fortress. Ground ramming is so strenuous that workers often get shaky and trembling arms and legs, and they later start to feel numb. In particular, workers sweat a lot and get dizzy on a hot summer day.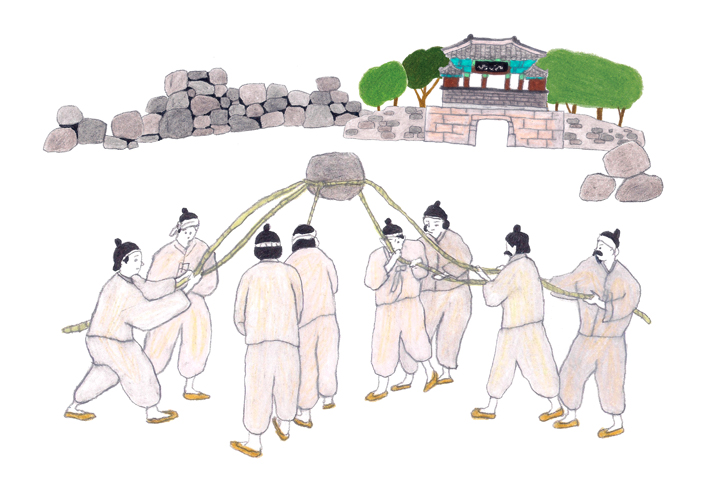 【 Chu ramming the earth 】
Chu has been working on the site for one year. Workers used a mixture of earth and stones to build Ganghwasanseong Fortress, which surrounded the king's royal palace residence. Ganghwasanseong Fortress has four gates each facing a different direction, and Chu is working on the northern gate section. Walk the slope along the ridge that stretches from the North Gate, and you can reach the top of the mountain. Here you can enjoy spanning views of the land on the northern side, mudflats, and the sea. You can see the Bukjangdae Command Post, which is built to spot any invasions from the Mongols. You can also see Byeongnando, an international port of the Goryeo era where Arabian merchants used to stay and traded. Chu remembered the day when he evacuated from Gaegyeong along the muddy road in the pouring rain and missed his small house in Gaegyeong.
Then he saw two people crying while holding each other. He wondered whether somebody got hurt. A boy who was working at the Bukjangdae Command Post section is bleeding, and the old man standing right next to him is crying. Chu ran to them and found out that the 12-year old boy was the man's son who was separated from him during the war. Of all the occasions, the father found his son when he got hurt. The father and son shed tears. Chu misses Gagyeong at the site constructed with blood, sweat, and tears. He wonders when he would be able to return to his hometown.
More Info
Overview of Ganghwasanseong Fortress: Ganghwasanseong Fortress has four main gates – Manghanru (east gate), Cheomhwaru (west gate), Anparu (south gate) and Jinsongru (north gate). There are two command posts (Bukjangdae and Namjangdae), four auxiliary gates used as secret passages and two water gates.
Travel Writer Recommended Cafe: Buksan Iyagi (032-932-5180) is a café located on the way to the north gate and the Bukjangdae Command Post. You can have a light meal here.
Nearby Tourist Sites: Wangjajeong, Goryeo Palace Site, Ganghwa Literary Museum
【 The winding walls of Ganghwasanseong Fortress 】

【 Ground ramming in front of the fortress 】

【 A view of the land on the northern side from
the Bukjangdae Command Post 】

【 Manghanru (east gate) 】

【 Cheomhwaru (west gate) 】

【 Anparu (south gate) 】

【 Jinsongru (north gate) 】

【 Sunset view of Namjangdae Command Post 】