Wangjajeong and Foods Served to the King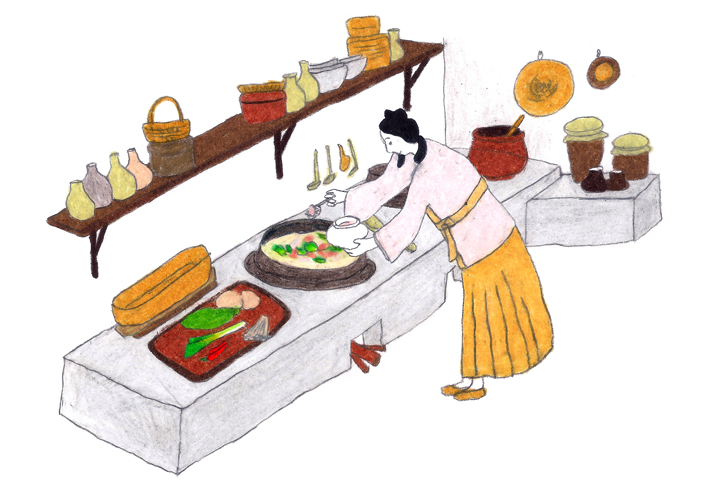 【 Making pork rib soup seasoned with salted shrimp 】
In the early 13th century, the Mongol empire rapidly grew into a powerful force and spread terror and panic across Asia. In 1232, the Mongols finally invaded Goryeo. The Goryeo Kingdom hurriedly moved its capital to Ganghwado Island. When the royal family moved onto the island, the once tranquil place suddenly became busy, and everything was in short supply.
One day at dawn, somebody from the palace knocked at the door of Ullyeong's house. She was an excellent cook in the village, and the person from the palace asked Ullyeong to prepare a dish for the king.

After thinking over what kind of food to prepare, Ullyeong got an idea. She decided to make short rib soup seasoned with salted shrimp. She immediately started to get ingredients for the dish. First, Ullyeong went to Oepo-ri to buy salted shrimp. Ganghwado Island is known for its quality salted shrimp. The sea surrounding the island is the ideal spot for shrimp to grow since that is where the Yeseonggang, Hangang, and Imjingang Rivers meet. Shrimp gather in the sea during the spawning season in summer and autumn, making the sea near Ganghwado Island crowded with shrimp. Salted shrimp made with shrimp caught near the island are best in quality. After buying salted shrimp, Ullyeong moved on to get fresh pork. She bought boneless pork ribs, removed the fat, seasoned the meat with salted shrimp, and aged it for one day. Koreans say you will never get a stomachache from eating pork and salted shrimp because the two ingredients make a perfect combination.
After completing the aging process, Ullyeong brought the ingredients to Goryeo Palace. She placed the seasoned pork at the center of the hot pot and surrounded it with freshly made tofu, mushrooms she harvested from the nearby mountain and locally grown pumpkin. If you add potatoes, the hot pot will have a mild taste, and napa cabbage will add a clean and refreshing flavor to the dish.
【 Ullyeong drawing water from Wangjajeong 】
Ullyeong now goes to draw fresh, clean water from a well in the palace. Donggung Palace (east palace), sitting on the eastern side of Goryeo Palace, is the crown prince's residence, which later became the residence of Prince Sik (King Wonjong). Water from the nearby well, called Wangjajeong, was used to make foods for the prince. The name "Wangjajeong" means a well for the prince. The prince enjoyed eating acorn jelly made with water from the well. Now Ullyeong brings acorn jelly and rice in cold broth along with pork rib soup seasoned with salted shrimp. The soup made with the utmost care as well as the locally produced meat, vegetables, and salted shrimp represents the hearts of Goryeo subjects.
More Info
Wangjajeong Address: 55, Bungmun-gil Ganghwa-eup, Ganghwa-gun, Incheon
Phone: 032-933-7807
Directions: Walk the road on the left of the Goryeo Palace Site, and Wangjajeong can be found sitting on the left side of the road.
Travel Writer Recommended Restaurant: Wangjajeong restaurant (032-933-7807) sells a unique dish called acorn jelly pancake, in addition to pork rib soup seasoned with salted shrimp and acorn jelly and rice in cold broth. If you want to take some rest at a café, visit Buksan Iyagi (032-932-5180) located between Wangjajeong and the north gate of the Ganghwasanseong Fortress.
Nearby Tourist Sites: North gate of the Ganghwasanseong Fortress, the Bukjangdae Command Post, Oeup Mineral Spring, Goryeo Palace Site
【 Acorn jelly and rice in cold broth 】

【 Pork rib soup seasoned
with salted shrimp 】
【 Pork rib soup seasoned with
salted shrimp aired by foreign
media 】
【 Wangjajeong restaurant known
for its acorn jelly and rice in cold
broth and its pork rib soup
seasoned with salted shrimp 】
【 Ingredients for the pork rib soup
seasoned with salted shrimp 】
【 Salted shrimp, the secret behind
the superb taste of the pork rib soup 】