Daemyeongheon House, Where Independence Activist Paikbum Kim Koo Stayed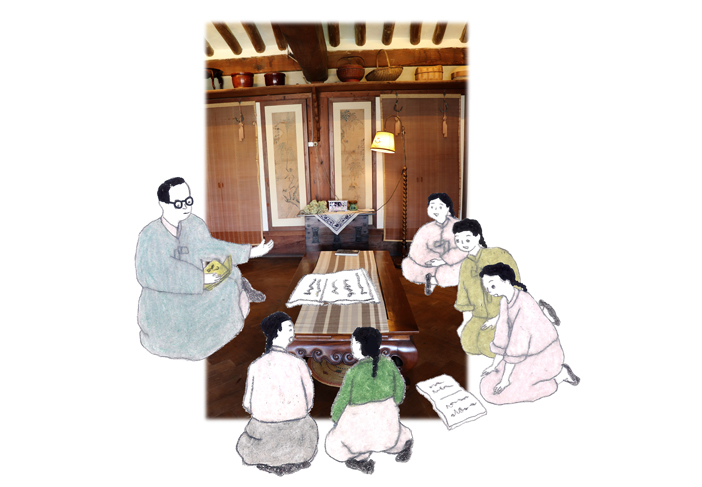 【 Paikbum Kim Koo teaching children at the balcony-like veranda of Daemyeongheon House 】
One day in 1876, a baby boy was born in Haeju, Hwanghae-do. The baby was named Kim Chang-su and was later called Paikbum. He was the descendant of King Gyeongsun, the last king of the Silla Dynasty (BC 57~AD 935), and he grew up to become a patriotic young man. In 1895, Japanese assassinators attacked Gyeongbokgung Palace (main palace) and murdered Empress Myeongseong (Queen Min). After hearing about the Japanese's brutal act, Kim killed a Japanese lieutenant who was disguised as a Korean at Chihapo Port. He left a note with his name that read, "I killed this Japanese person as revenge for the Queen." As a result, he was arrested and sentenced to death.

During his trial at court, Kim Ju-gyeong from Ganghwado Island saw him and was impressed by his attitude as well as his courageous words and actions. The young man in his 20s had a spirit like a tiger and scolded the judge sternly that Kim Ju-gyeong respected Kim Chang-su even though he was more than 20 years younger. From that day forward, Kim Ju-gyeong desperately tried to win parole for Kim Chang-su. However, things did not go according to his plan, and he was not able to reverse the death sentence. So Kim Chang-su decided to escape from prison, thinking that he should not die in prison when he has tons of work to do for the country. Finally, Kim Ju-gyeong succeeded in bribing the guards and helped Kim Chang-su break out of jail. After spending one year and eight months in prison, Kim Chang-su left Korea and continued independence movement activities in Shanghai and in Vladivostok, Russia. He even changed his name to Kim Koo. After returning to Korea, the first thing he did was to find Kim Ju-gyeong, who lived on Ganghwado Island. However, Kim Ju-gyeong was on the run, so Kim Koo met Kim Ju-gyeong's younger brother instead. Kim Koo stayed in his house for three months and taught around 30 children using the Dongmongseonseup and Cheonjamun – children's textbooks written in Chinese. During that period, Kim Koo found out that several people including Kim Ju-gyeong made detailed plans to rescue him. In addition, he heard that Kim Ju-gyeong had saved his life and had spent all his money doing so.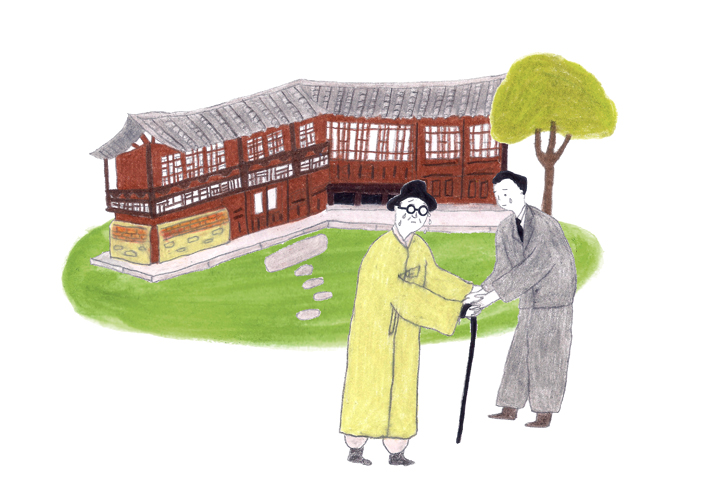 【 Paikbum crying while holding the hands of Kim Ju-gyeong's son 】
Korea gained national independence at last, and Paikbum visited Kim Ju-gyeong's house on Ganghwado Island in 1946. However, Kim Ju-gyeong's son told him that his father had died away from home. Kim Koo shed tears while holding the hands of Kim Ju-gyeong's son. Three years later, Paikbum was shot and killed at Gyeonggyojang House. Traces of the ties between Kim Ju-gyeong and Paikbum, who was the Premier of the provisional government of Korea, are kept alive at Daemyeongheon House on Ganghwado Island.
More Info
Address: 7, Nammunan-gil, Ganghwa-eup, Ganghwa-gun, Incheon
Phone: 032-934-2021
Directions: Walk 200 m from the south gate of Ganghwasanseong Fortress along the Nammunan-gil road toward Hyeopdong Senior Center.
Travel Writer Recommended Restaurant: Duchonga (032-932-1122) sells tasty tofu dishes. Visit Seokcheon Dolsotbap (032-934-8433) if you want to experience a Korean set menu served with several side dishes. Café Bagdad (032-932-5156) decorated with a wooden interior serves quality coffee.
Nearby Tourist Sites: Ganghwasanseong Fortress, Ganghwa Folk Flea Market
【 Entrance to Daemyeongheon House 】

【 Photo of Paikbum Kim Koo 】

【 Bust sculpture of Kim Koo 】

【 Manisan Mountain
patterned glass windows 】
【 Daemyeongheon House
and the yard 】
【 Underfloor heated room of
Daemyeongheon House 】
【 Café Bagdad known
for its tasty coffee 】
【 Underground shelter of
Daemyeongheon House
where independent movement
activists used to hide 】
【 Ganghwa Tourism Platform offering tourist information
about Ganghwado Island 】