【 Photo: Seongsan Ilchulbong Peak along Route 1 】

【 Photo: Route 1-1 on Udo Olle 】
If you're looking for an eco-friendly vacation spot where you can enjoy the beautiful scenery while walking on a well-maintained trail to stay fit, there's no better place to go than Jeju Island. In the local dialect, "olle" originally referred to the narrow path between the street and one's doorstep. Jeju Olle Trail, a series of walking trails that stretch around the entire coast of the island, is one of the many attractions and activities that Jeju has to offer. The trails pass through various landscapes along the way, including small villages, beaches, farms and forests. Each route offers a unique opportunity to soak in the beauty of Jeju and the island's culture.

There are currently a total of 26 routes, consisting of 21 main routes and five sub-routes. Each course differs in length and difficulty, allowing visitors to choose the appropriate course that meets each individual's level. The shortest route takes approximately one hour and the longest up to eight hours to complete. As each course is equipped with directions and guiding posts along the way, even first-time visitors will be able follow the trail conveniently. Visitors can get more information about Jeju Olle Trail by visiting the official website.

For those worried about the safety of walking alone along the olle trails, visitors can rent a smart watch called "Jeju Travel Protector" at the Tourist Information Center in Jeju International Airport and Jeju Port Terminals. The smart watch has an emergency button that alerts the police with the user's GPS location. The smart watch can be rented for free with a deposit of 50,000 won.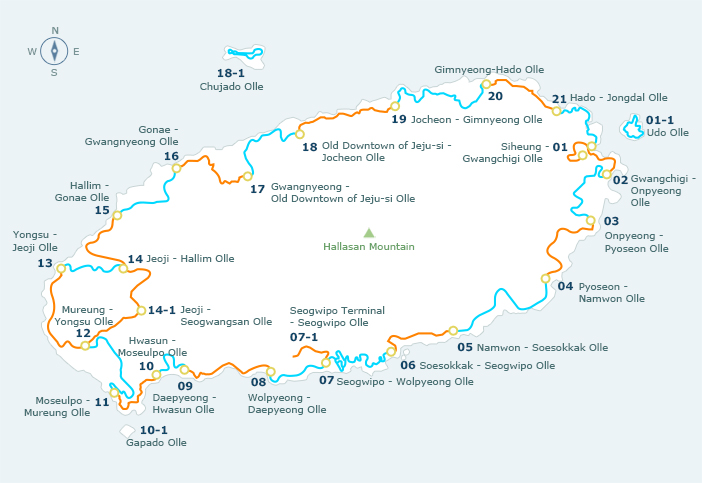 Route 1 Siheung - Gwangchigi Olle
Route 2 Gwangchigi - Onpyeong Olle
Route 3 Onpyeong - Pyoseon Olle
Route 4 Pyoseon - Namwon Olle
Route 5 Namwon - Soesokkak Olle
Route 6 Soesokkak - Seogwipo Olle
Route 7 Seogwipo - Wolpyeong Olle
Route 8 Wolpyeong - Daepyeong Olle
Route 9 Daepyeong - Hwasun Olle
Route 10 Hwasun - Moseulpo Olle
Route 11 Moseulpo - Mureung Olle
Route 12 Mureung - Yongsu Olle
Route 13 Yongsu - Jeoji Olle
Route 14 Jeoji - Hallim Olle
Route 15 Hallim - Gonae Olle
Route 16 Gonae - Gwangnyeong Olle
Route 17 Gwangnyeong - Old Downtown of Jeju-si Olle
Route 18 Old Downtown of Jeju-si - Jocheon Olle
Route 19 Jocheon - Gimnyeong Olle
Route 20 Gimnyeong-Hado Olle
Route 21 Hado - Jongdal Olle
Route 1-1 Udo Olle
Route 7-1 Seogwipo Terminal - Seogwipo Olle
Route 10-1 Gapado Olle
Route 14-1 Jeoji - Seogwangsan Olle
Route 18-1 Chujado Olle
More Info
Website: www.jejuolle.org (Korean, English)
1330 Korea Travel Hotline: +82-2-1330 (Korean, English, Japanese, Chinese)
This page was last updated on September 25, 2020, and therefore information may differ from what is presented here.