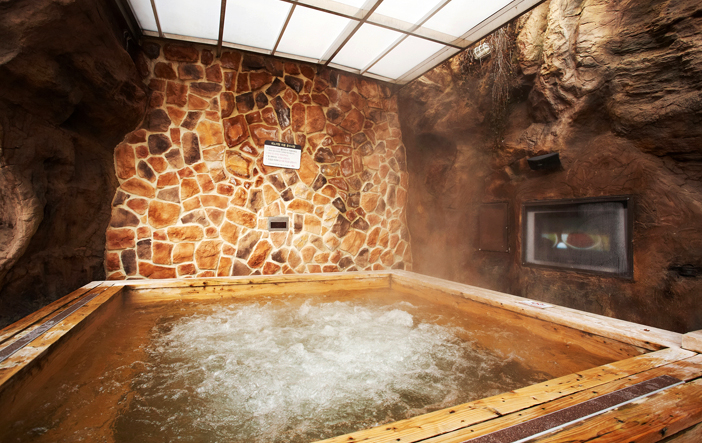 【 Photo: Hot spring 】
Bathing in hot springs, or oncheon, and partaking in spa activities have long been loved by Koreans. This unique culture is often seen as medical treatment due to the proven effectiveness in improving metabolism, as well as help recover from fatigue, muscular pain and many others ailments. In addition to these benefits, spas have also become increasingly popular due to various amenities and services. They serve as a place for families and friends to enjoy some downtime together as they relax.
Hot springs (oncheon)
Korea offers a wide variety of hot spring facilities: Health-centered rejuvenation oncheon, open-air oncheon with views of tranquil natural surroundings, and even water park-integrated hot springs that have a variety of fun water rides. Overall, these diverse themed oncheon facilities provide healing getaways effective in treating dermatitis, assuaging symptoms related to sleep deprivation, high blood pressure, neuralgia and more. Hot springs can be found throughout different areas of the country, allowing travelers to soak in and relieve stress away from home.
Major hot spring destinations in Korea
Icheon Hot Springs District
Spas
Fatigue can easily sneak up on travelers with busy itineraries. For those travelers, we recommend setting aside time to relax at one of Korea's spas. Visitors can choose from luxury spas in high-end hotels and resorts, or medical treatment spas with trained professionals.
【 Photo: Tools for traditional Korean
medicine spa 】

【 Photo: Getting a spa treatment 】
Luxury spas
Hotel spas are the ultimate experience in health-oriented indulgence and offer customers an array of luxury spa products and services. Initially offered as a subsidiary service for hotel guests, hotels have introduced their own spa services and now cater to an ever increasing number of outside guests.
Resort spas are usually found away from the city in quieter, more natural settings that help emphasize the overall spirit of relaxation and rejuvenation. Although it takes more time to travel to one of these locations, resort spas usually offer the benefit of lower prices when compared to hotel spas. Many resort spas are equipped with a water park, outdoor hot springs, and indoor spa facilities, attracting family visitors.
Medical spas
Medical spas include a variety of spa treatments but usually examine each visitor's physical conditions in depth, combing spa treatments with a doctor's diagnosis and possibly a prescription. The number of medical spa facilities in Korea is increasing, offering dermatology, plastic surgery, and traditional Korean medicine. Treatments are designed to prevent aging, fight obesity and stress, and bring the body in balance through a combination of healthy diet, exercise, and natural remedies.
This page was last updated on August 31, 2020, and therefore information may differ from what is presented here.