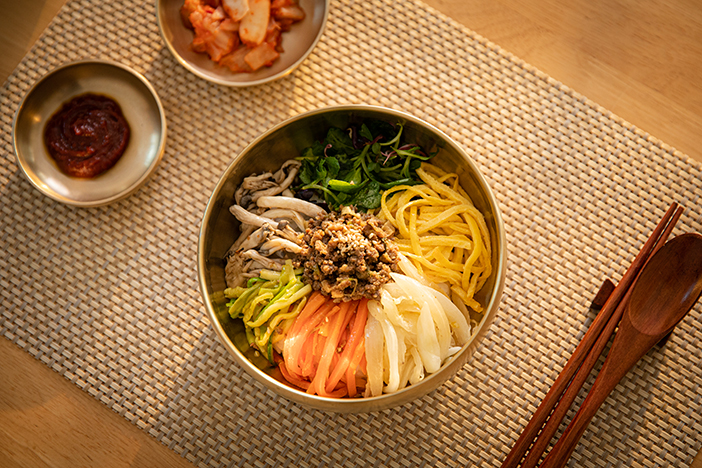 【 Photo: An all-time favorite well-being food, Bibimbap 】
Bibimbap, a traditional Korean food, is a bowl of rice mixed with meat and assorted vegetables. It has gained recognition worldwide as a healthy dining option, increasing the number of bibimbap restaurants in different parts of the world. From traditional bibimbap to regional specialties and fusion styles, there are many ways to enjoy this dish. Read on to learn more about how bibimbap came to capture the hearts of so many.
A Globally Recognized Healthy Food, Bibimbap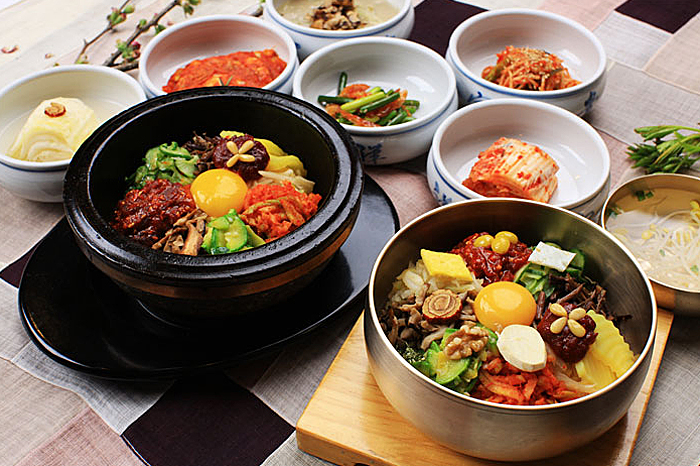 【 Photo: Bibimbap served in stone pot and brass bowl 】
Even though bibimbap is easy to make by adding various vegetables on rice, it is rich in flavor and nutrition. Bibimbap contains many beneficial ingredients including namul (seasoned vegetables) and meat which provide protein, minerals, and fiber.
The colorful ingredients please the eyes while the savory smell of sesame oil tickles the nose once the vegetables are mixed with rice. Each bite provides a mouthful of bursting flavors.
Bibimbap 2.0, Fusion Food for a Modern World
【 Photo: Bibimbap croquette 】

【 Photo: Bibimbap in a cup 】
Bibimbap was originally called goldongban, meaning "rice mixed vigorously," or hwaban, meaning "flower blooming on top of rice." The vegetables used in bibimbap vary greatly by region, although the most common toppings remain the same no matter where you go. These toppings include bean sprouts, balloon flower root, bracken fern, and grilled beef.
【 Photo: Bibimbap with soybean paste sauce 】

【 Photo: Bulgogi & mushroom bibimbap 】

【 Photo: Tuna & kimchi bibimbap 】
Bibimbap has evolved in many ways from fusion bibimbap to easy-to-make bibimbap. Jeonju Hanok Village in particular takes fusion one step further by making bibimbap into croquettes, and even inventing a bun filled with bibimbap. If you're looking to dine out but are worried about the spice level, many places serve variations of bibimbap with little to no spice, such as soy-sauce and gang doenjang (soybean paste) based bibimbap.
Regional Bibimbap
Jeonju Bibimbap
【 Photo: Jeonju Bibimbap, the most recognized bibimbap of all 】
Jeonju bibimbap is regarded as the most representative example of bibimbap. The broth from a beef brisket is used to cook the rice, and is garnished with yukhoe (beef tartare) and egg yolk, a signature ingredient of Jeonju bibimbap. Additionally, Jeonju bibimbap is sometimes accompanied by hot pepper paste mixed in with fried beef called yak gochujang and bean sprout soup.
Andong Bibimbap
【 Photo: Andong heotjesabap 】

【 Photo: Assorted pancakes 】
Heotjesabap is a combination of the words heot, meaning "fake," and jesabap, referring to a meal that used the food remaining after ancestral rites. Heotjesabap is most famously connected with Andong, where the Confucian scholars were known to have this dish even when there was no ritual service. This bibimbap is unique in that the three main spices of Korean cuisine, spring onion, garlic and red pepper powder, are not used. Heotjesabap is seasoned with soy sauce, sesame oil and sesame seeds instead of red pepper paste. Also, ritual dishes such as sanjeok (skewers) and mackerel are served as side dishes.
Tongyeong Bibimbap
【 Photo: Tongyeong meonggae bibimbap 】
Tongyeong bibimbap is made by mixing steamed rice with shrimp, clams, and sea squirts blanched in boiling water and seasoned with sauce. Sometimes, the seafood broth is added for a deeper and richer taste. This dish goes perfectly with clam and tofu soup.
Jinju Bibimbap
【 Photo: Jinju bibimbap topped with beef tartare 】
Jinju in Gyeongsangnam-do also has a unique take on bibimbap. It is served with vegetables including cooked fern bracken and bean sprouts on top of steamed rice. Then, minced beef and jang guk (clear soybean soup) is mixed in a bowl and served after being garnished with cheongpo (mung bean jelly), yukhoe (beef tartare), and red pepper sauce. Yukhoe is the symbol of Jinju bibimbap, but the cooked beef version is also served. Yukhoe bibimbap can be commonly found on the menu of restaurants in Jinju, which trace back to the 1920s, when Jinju emerged as an active market in the cattle trade.
Bibimbap in the sky
Bibimbap is a favored in-flight meal among passengers. The late singer Michael Jackson is reported to have enjoyed bibimbap many times during his stay in Korea after trying the dish as an in-flight meal. Multiple airlines offer bibimbap with steamed rice, finely presented namul and spicy red pepper paste. Mild red pepper paste is also available to suit the taste of those not accustomed to eating spicy foods.
This page was last updated on October 7, 2021, and therefore information may differ from what is presented here.